Huntington Regional Chamber and Kindred Communications Launch New Podcast, In Your Business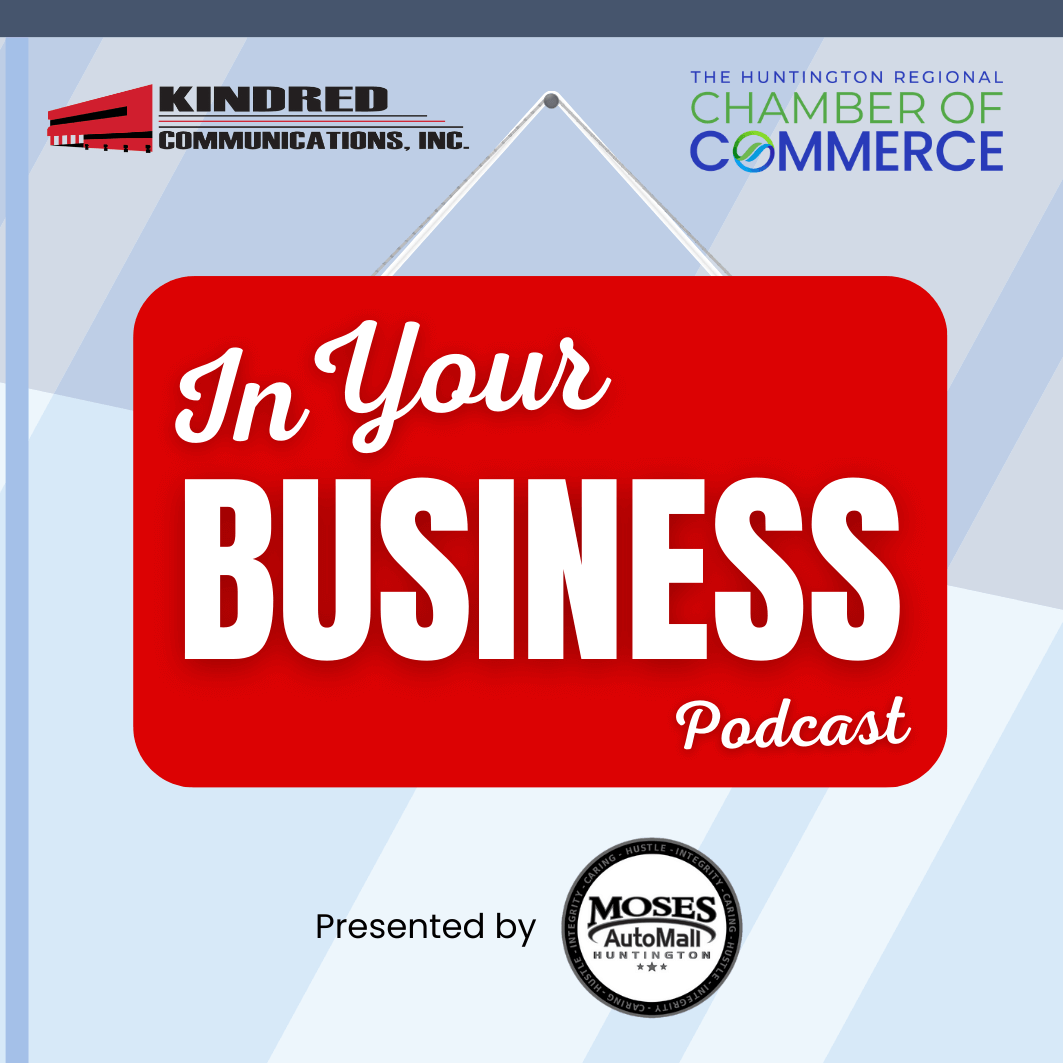 Huntington, W.Va. –  The Huntington Regional Chamber of Commerce, in partnership with Kindred Communications, is excited to announce the launch of a new podcast, In Your Business, presented by Moses AutoMall of Huntington. 
In Your Business is a weekly conversational podcast that delves into the vibrant world of Huntington-area business. Each week, passionate entrepreneurs will share their inspiring journeys, innovative strategies, and challenges they've conquered to make their mark. From marketing mastery to work-life balance, the podcast will explore the stories behind small businesses in the Tri-State area, offering invaluable insights and advice for both budding and seasoned entrepreneurs.
"I am grateful for this partnership with Kindred Communications and Moses AutoMall and for this platform to share the stories of our amazing Chamber member businesses," said Tricia Ball, President & CEO of the Huntington Regional Chamber of Commerce. "Through the In Your Business podcast, we aim to showcase our vibrant local business community, celebrate their successes, and educate others on various aspects of starting and running a business. Our vision is for it to be mutually beneficial for both the listener and the Chamber member business." 
A new episode will be released every Thursday featuring various business owners across multiple industries. Listeners can subscribe on Apple, Spotify, and Amazon. 
Subscribe on Apple:  https://podcasts.apple.com/us/podcast/in-your-business/id1706375398 
Subscribe on Spotify:  https://open.spotify.com/show/3iK4Msuz2EfW45LSy4tTzy 
Subscribe on Amazon: https://music.amazon.com/podcasts/6c8177f3-a444-4d60-bf6a-5203806fb1e0/in-your-business
"Through In Your Business, we're not only telling stories -- we're uncovering blueprints for success," said Reeves Kirtner, Associate General Manager at Kindred Communications. "Every episode is a discussion on entrepreneurship, revealing the strategies and secrets that have propelled these businesses forward. It's great to share this wealth of knowledge with our listeners. I'm excited to bring to light the great stories of entrepreneurs and businesses in the Huntington area, showcasing their creativity, originality and perseverance."
The first episode of In Your Business features seasoned entrepreneur Vicki Dun-Marshall, owner of multiple Little Caesars franchises and Dog Haus Biergarten. 
###