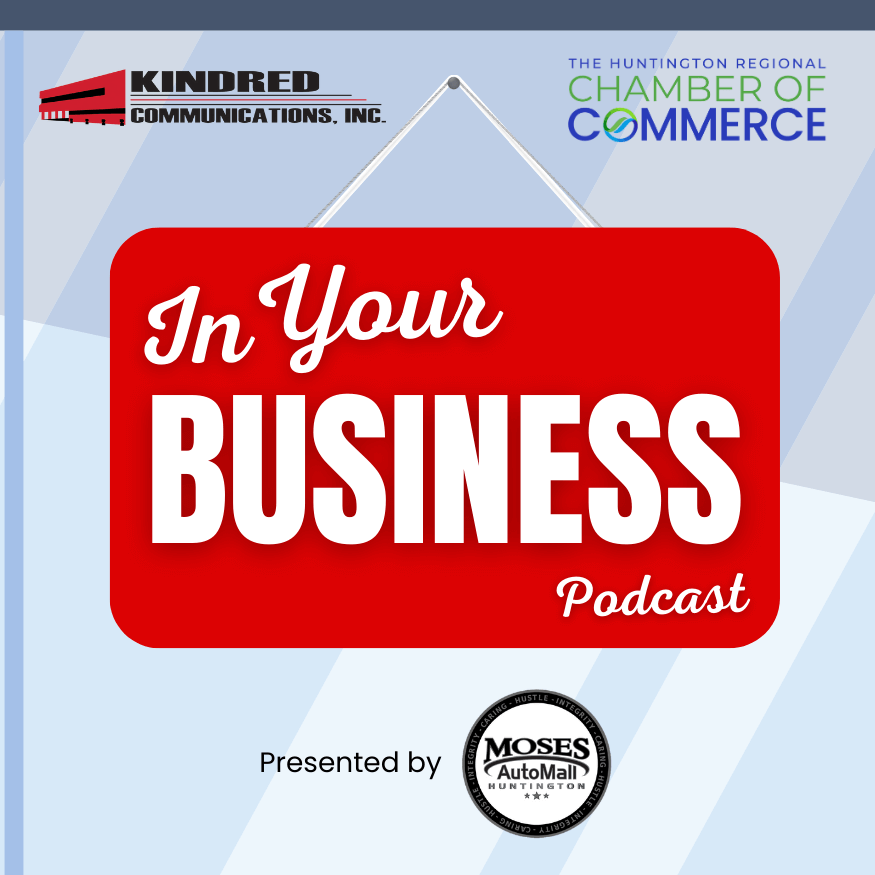 In Your Business is a weekly conversational podcast that delves into the vibrant world of Huntington-area business. Join us as we sit down with passionate entrepreneurs, uncovering their inspiring journeys, innovative strategies, and the challenges they've conquered to make their mark. From marketing mastery to work-life balance, we explore the real stories behind small businesses, offering invaluable insights and advice for both budding and seasoned entrepreneurs. Tune in for a dose of entrepreneurial inspiration and practical wisdom, right from the heart of successful ventures. This podcast is proudly produced in partnership with Kindred Communications and the Huntington Regional Chamber and presented by Moses AutoMall of Huntington.
This week, we sit down with CEO Stacey Shy and Chief Marketing & Communications Officer Doug Sheils from OVP Health. They've recently steered their company through a major rebranding effort, and today, we're peeling back the layers of that journey. We'll discuss the reasons fueling the rebrand, the strategic decisions, stylebooks, the how's, timelines and even meetings on fonts.
In this episode of In Your Business, we sit down with Tim Forth, owner of Food Fair, the area's regional grocery store chain that's making waves in an industry dominated by corporate giants. Discover the strategies that set them apart, from community engagement to innovative sourcing. Join us as we uncover the challenges of being independent and learn how this business thrives while staying true to its roots.
In this episode, we sit down with Ben Eng, the executive director and co-founder of the iCenter at Marshall University. Join us as we dive deep into how the iCenter is revolutionizing entrepreneurship and business innovation in Huntington. Learn how this thriving hub is nurturing the next generation of entrepreneurs. We'll also explore the role of the Brad D. Smith Student Business Incubator and the exciting collaborations that are propelling the iCenter to new heights.
This episode, we're joined by Brock Meadows, fanchise owner of OrangeTheory Fitness in Barboursville and other locations in West Virginia, to discuss the art of crafting a positive work environment, nurturing a vibrant work culture, and honing the essential skill of team building.
This week, we're sitting at the table of a true culinary institution with Larry and Bradley Tweel, the son and grandson of Jim Tweel, the founder of Jim's Steak and Spaghetti. Jim's has been serving generations of patrons for an incredible 85 years! In this special episode, we'll uncover the secrets to their remarkable success, including building unwavering customer loyalty, honoring tradition, and nurturing a team where some employees have been with the restaurant for 30 to 40 years! Plus, you'll get the inside scoop on Strawberry Pie Week, the We Are Marshall Movie, the milestone of accepting credit cards, and even the addition of Diet Coke to the menu.
Join us in this episode as we sit down with Jason Moses, Executive Manager of Moses Auto Mall of Huntington. Jason shares insights on conquering inventory and supply chain challenges. From demand forecasting to surpassing customer expectations, Jason provides actionable strategies that apply across industries. Whether you're a seasoned player in the automotive sector or a business enthusiast, this episode promises a wealth of practical takeaways. Listen to gain access to the strategies that keep Moses Auto Mall ahead of the curve, and gain a unique perspective on the future of inventory management in the automotive industry.
Join us for an insightful episode as we trace the remarkable journey of Serucell, a luxury skincare product that started and continues to be manufactured in Huntington and was destined for a national stage from the outset. From its grassroots origins to its rapid rise on the national scene, we delve into the strategic decisions, hurdles, and successes that molded Serucell's transformation into a sensation that resonated across the country. Through candid conversations with the founders, we uncover how this product was inherently primed for a nationwide presence, navigating the intricacies of scaling production, refining its brand identity, and captivating a broader audience. Explore the pivotal lessons, strategies at play, and behind-the-scenes anecdotes that unveil the captivating story of Serucell's evolution from local roots to triumphant national achievement.
In this episode, we uncork the secrets of event success with Allison White, the owner of Sip Downtown Brasserie and the mastermind behind Huntington's renowned Siptacular Wine Festival. Journey with us into the wine cellar as we discuss the art of hosting extraordinary events. Discover the keys to securing sponsorships and propelling your event to new heights. Join us for expert insights, actionable tips, and inspiring stories that will not only boost your business but also take your next event to the next level.
Join us as we discuss Artificial Intelligence's role in Huntington-area businesses. Our guest, Ariana Shives, unveils practical strategies, real-world uses and tips for seamless integration. From boosting productivity to personalized customer experiences, discover how AI can help your business. Don't miss this insightful dive into the future of AI for local businesses!
In this episode, uncover the captivating narrative behind Booktenders and how to start a business. Join us as we embark on a journey with creative minds, Ashley Skeen and Mandee Cunningham, who turned their love for books into a successful small business. From the initial spark of the Booktenders concept to the strategic steps that led to its vibrant presence, we explore the chapters of their entrepreneurial expedition. Tune in to hear about the challenges they conquered, the strategies they penned for branding and growth, and the invaluable lessons they've gathered along the way. Whether you're an aspiring entrepreneur seeking guidance or a fellow book lover drawn to tales of success, this episode offers a compelling blend of storytelling and business wisdom courtesy of Booktenders.
Join us in this episode as we delve into the fascinating world of franchises with a seasoned entrepreneur and owner of multiple Little Caesars franchises and one Dog Haus location, Vicki Dun-Marshall. Discover what it takes to turn a beloved brand into a successful business venture, as we uncover the mechanics behind franchising, its advantages, challenges, and the realities of being at the helm of well-known fast-food outlets. From the misconceptions to the financial considerations, from the franchisee-franchisor relationship to future growth prospects, this conversation offers valuable insights for aspiring franchise owners and anyone intrigued by the intricacies of running a franchise within the dynamic food industry. Whether you're a business enthusiast or just curious about the behind-the-scenes of familiar eateries, this episode provides a rich exploration into the world of Little Caesars franchises.