Cooking, Etiquette, and Strengths: Takeaways from Session 1 of Leadership Huntington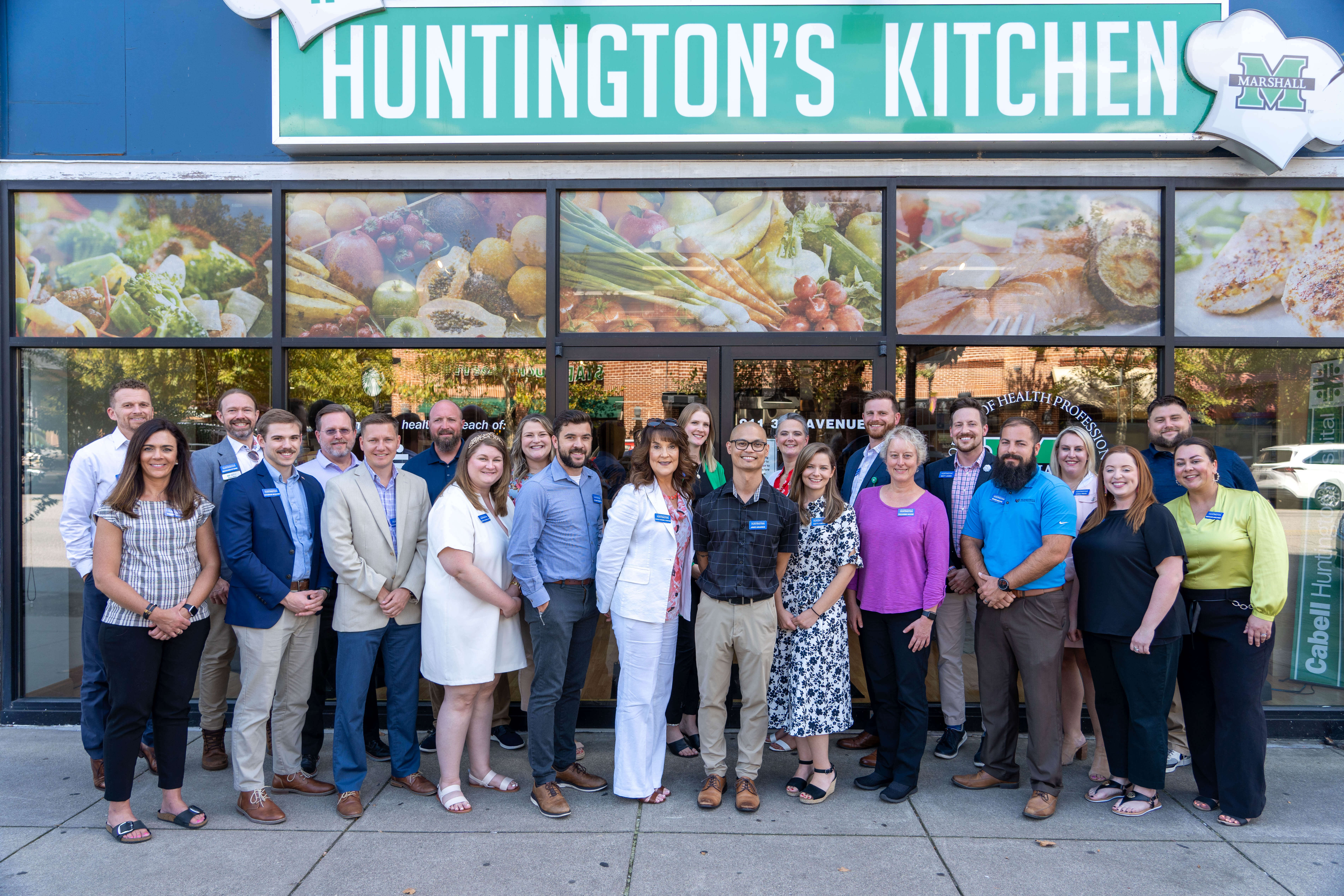 The inaugural class of Leadership Huntington Presented by Mountain Health Network embarked on an exciting journey during their orientation and first session, held on September 6 and 7 at Huntington's Kitchen. The new program, offered through the Huntington Regional Chamber of Commerce, is designed to connect, develop, empower, and mobilize current and emerging leaders who are committed to making a difference in the Huntington region. The 10-month curriculum provides participants with a comprehensive understanding of the region's economic, social, and political landscape, while equipping them with the tools and knowledge needed to tackle complex business challenges.
The orientation kicked off with a dynamic start as class members connected and heard from speakers; Barry Burgess, Chamber Chair and Member at Suttle & Stalker, PLLC; Toney Stroud, Marshall University Chief Legal Officer and General Counsel; and Christian Spears, Marshall University Athletic Director. Later that day, the class enjoyed a cooking class with Chef Sherman of Huntington's Kitchen, followed by a valuable business etiquette workshop led by etiquette expert Pam Harvit.
"Leadership Huntington has been an exceptional experience thus far, and I can't wait for our next session," shared Jimmy Lemon, Chief Operations Officer at Bullseye Total Media. "Not only has it offered insights into how I can be a more effective leader within my organization, but it has also inspired me to deepen my engagement with the Huntington community. The speakers and facilitators have struck a perfect balance between educational and inspirational. I am genuinely thankful for the chance to connect with, learn from, and grow alongside my fellow members of Leadership Huntington."
Session 1 the following day began with with Dr. Ben Eng, Executive Director of Marshall University ICenter and Assistant Provost for Academic Engagement and Innovation; and Paige Leonard, Assistant Director of Marshall University ICenter. Together, they led the class through Design Thinking, an approach to innovating solutions that people love for complex human-centered programs.
As the session concluded, Laura Seybold from Shine Consulting, LLC, conducted a CliftonStrengths workshop, enlightening the class about their individual strengths and demonstrating how to leverage them effectively for personal and professional success.
"It's exciting to be a part of the inaugural Leadership Huntington class and have the opportunity to connect with a diverse network of established leaders," said Megan Archer, Digital Marketing and Media Manager of Mountain Health Network. "In just the first two days, I've learned so much about my leadership potential and how to better develop my skills to bring out the best in others. It's an honor to be surrounded by so many incredible professionals who are committed to personal growth and community impact."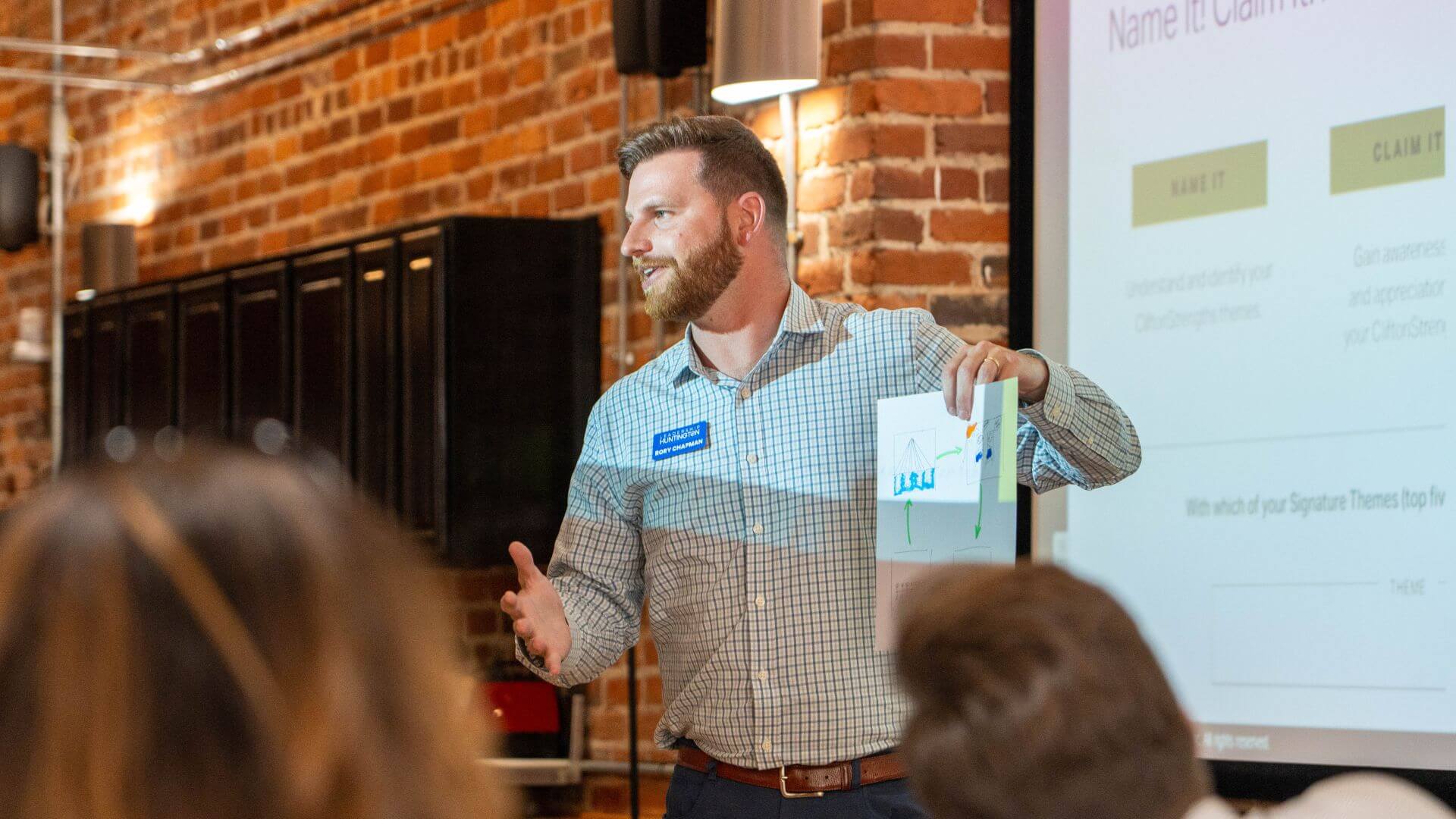 Here are three key takeaways from the orientation and first session from Rory Chapman, Director of FaithHealth Appalachia:
We all want Huntington to be the best it can be, and we all want to play a part in making that happen. The Huntington Regional Chamber of Commerce and its team are deeply invested in the city of Huntington, and cultivating its leadership with the skills they need to lead effectively, collaborate willingly, and improve professionally. The inaugural class of Leadership Huntington is a diverse, optimistic, and passionate group that is ready and willing to use their talents and passions for the good of one another, and this city as a whole.
Leadership is less about compensating weaknesses as it is about emphasizing strengths. We all tend to focus on the things we're not good at and try to work harder to improve in those areas. While improving in areas of deficiency is definitely part of leadership, it's more important to cultivate our skills and talents we are good at than to compensate for our weaknesses and deficiencies. Our best work is done when we're given responsibilities that align more with our strengths and talents while still requiring the work to improve in areas weakness.
The need to innovate is critical to success. It's important to know how organizations started, where they come from, and why they exist—it's more important to show how they'll remain relevant, current, and necessary for the future. Innovation and design is critical to anyone's leadership success, and leaders need to be constantly thinking and surrounding themselves with people who push them to innovate and grow.
Learn more about the program and the inaugural Leadership Huntington class