Making History: For the first time in its 85 years, four women are leading West Virginia Chamber's Board of Directors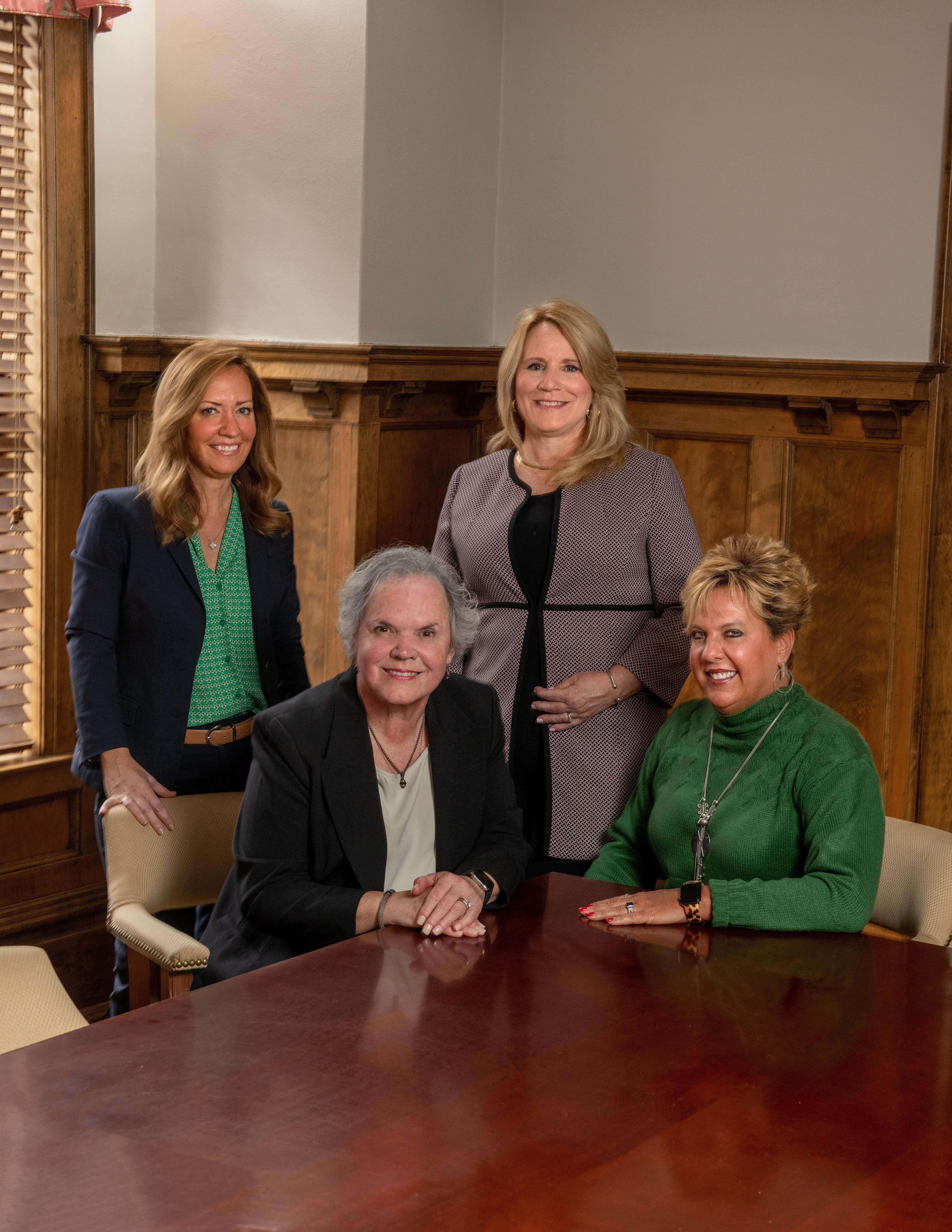 This article was by Katherine Pyles for the West Virginia Chamber of Commerce Magazine Spring 2023 Edition. Photo by Rick Lee.
At the 2022 Annual Meeting & Business Summit, the West Virginia Chamber of Commerce elected its 2022-2023 Board of Directors. That election made history. For the first time, all four board officers - Chair Susan Lavenski, Vice Chair Maribeth Anderson, Secretary Kathy Thomas, and Treasurer Anna Dailey - are women.
While the four officers have held various leadership positions on the Chamber's board, Lavenski is only the second woman in Chamber history to be elected chair.
"It is quite humbling," Lavenski said. "I hope that I can serve as a mentor to other women business leaders in our state and provide them with the same support that so many others have provided to me through the years."
Lavenski is the CEO and co-owner of Charles Ryan Associates, one of the state's largest communications firms. She joined Charles Ryan in 1998 as a senior account executive; in 2015, after holding such titles as senior vice president and managing partner, she purchased the company. Her award-winning work has earned Charles Ryan international attention - still, said the Lewisburg native, there's no place like home.
"I'm extremely blessed that my company has the opportunity to work with some of the biggest brands in our country," Lavenski said. "But I love West Virginia. I was raised and educated here. I have raised my kids here, grown a business here. It really is Almost Heaven' To me while I have traveled all across this great country, I've had the opportunity to live the American dream right here in West Virginia."
Lavenski said when she was first approached to serve on the Chamber board, it was an easy decision. Having been active at the Chamber since joining Charles Ryan over two decades ago, she said she's seen the myriad ways the Chamber makes West Virginia a better place to do business.
"I gladly agreed to serve." Lavenski said. "The West Virginia Chamber of Commerce is the voice of the business community in our state. It's very re_ warding to be part of the leadership of such an outstanding organization. It's a sentiment shared by Vice Chair Maribeth Anderson, who said she knew from the first Business Summit she attended that the Chamber was worth the investment of her time and talent.
"My first experience with the Chamber was the Business Summit - the best gathering in the state," she said. "My mind was just blown to he around so many smart, forward-thinking people, in the same room at the same time, all with their hearts in the right place. That's when I knew the West Virginia Chamber was going to be part of what I did going forward."
Anderson director of government relations at Antero Resources and president of the Board of Directors of the Gas and Oil Association of West Virginia, was a TV news director for 15 ears before entering the oil and gas sector in 2007. She said the networking opportunities provided to her by the Chamber, like legislative outreach and the chance to represent the oil and as industry on the Business Summit stage, were invaluable during the early years of her career change.
Reflecting on the historic board election, Anderson said the Chamber has been from day one "a very comfortable space to be a woman "The Chamber has a big set of goals, and that takes all knowing much about the Chamber," said Thomas, who led a successful banking career before joining the Chamber staff.
"When you join the Chamber, you get a crash course in the many different things the Chamber does. We're small and mighty. We wear many hats Thomas, who handles everything from memberships to sponsorships, said serving on the Chamber's first all-female board is "a huge honor.
"I started out in banking 30 years ago, and I didn't have a female boss until I was in my 30s," she said. "Today, we can look around and see women in leadership roles everywhere."
Thomas recalled an email she received a few vears ago from another state chamber about a women event it was hosting.
"I thought, 'We don't have anything like that in West Virginia," she remembered. "I registered for it, got in my car and drove six hours to the event. When I came back.
The following year, the Chamber hosted its first Women's Leadership Summit. Feeling optimistic, Thomas set an attendance goal of 50 women.
"We had 125 that first year - and it's grown ever since. This year we had nearly 400 women attend," she said. "love our Business Summit; but for me, the Women's Leadership Summit is special. It's one of the things the Chamber does that I'm the most proud of. Diversity is huge at the Chamber, and I feel so fortunate to be a part of this organization."
The Vomer's Leadership Summit is a two-day event packed with leadership development, networking and mentorship opportunities, as well as an impressive lineup of speakers. The 2023 event, held March 29-30 at The Greenbrier, featured a panel co-led by Board Treasurer Anna Dailey, senior partner at Dinsmore.
"Anna is amazing," Thomas said. "She was among the hirst women to graduate from WVU Law School, and she paved the wav for a lot ot other women in her field. She's also one of the kindest people that I know"
Prior to her service on the Board of Directors, Dailey served on the Human Relations Committee and Civil Justice Committee. She said she was first introduced to the Chamber as a 2004 graduate of Leadership West Virginia, a program that "had a big influence" on her.
Another key influence was Linda Wellings, who in 2006 became the Chamber's first female chair. Wellings was "role model for women interested in Chamber leadership Dailey said, and her election signified a shift in how the business community viewed women in leadership.
"The way we used to do things in the business community, men were with men and women were with women," Dailey said. "And when it came time to nominate people to leadershio. of course voud only nominate the people that you knew. So, leadership tended to stay within those social groups."
That's partly why one of her personal goals is to make sure every Chamber member knows there's a seat at the table for them in West Virginia's business community.
"At the first Business Summit I went to, people were friendly - but I still felt like a fish out of water," Dailey said. "One of my missions every time I go to the Summit is tc find those people who look like they might be a fish out of water and start talking to them. I want them to know how welcome they are to be part of our business communitv."
She said while it took intentionality on the part of the Chamber to bring diversity to its leadership, a diverse board is "just natural and organic" today.
"When I look at the women we have leading our board, there are no surprises to me here," she said. "I don't feel like this is something unique or remarkable. The Chamber, and businesspeople in general, have realized that diversity makes for a better organization; they understand the importance of having a lot of different stakeholders at the table."
With Lavenski, Anderson, Thomas, and Dailey at the helm, the board is hard at work on the Chamber's 2023 agenda. Legislative priorities, include workforce participation, public education, and tax reform.
"It's no secret that West Virginia is on the bottom of a lot of lists," Anderson said. "We're on the bottom of the workforce participation list. My hope is that we can keep rising away from that position. We have so much in West Virginia that other states don't have and can't get. And what we need, we can get. It's just going to take work."
The Chamber is up to the challenge, Lavenski said. She said her goals as board chair are simple to continue serving West Virginia's business community with excellence.
"We must continue to be the voice for business," she said. "We must be a strong advocate for the business community during the legislative session. And we must help recruit new businesses to West Virginia and make sure we support the businesses who call West Virginia home."
The Huntington Regional Chamber of Commerce Women's Impact Network Group (WIN) is hosting Women Leading the Way Panel Discussion on November 9.
This event will feature a panel of the four current officers of the West Virginia Chamber of Commerce, who are all women leaders in their communities: Board Chair and CEO of Charles Ryan Associates, Susan Lavenski; Board Vice-Chair and Director of Government Relations for Antero, Maribeth Anderson; Secretary and Vice President/CFO of the West Virginia Chamber of Commerce, Kathy Thomas; and Treasurer and Senior Partner of Dinsmore & Shohl LLP, Anna Dailey. These panelists will provide insight on what they see in the coming years for professional women in the State of West Virginia, suggestions for women in entrepreneurship, as well as what has made them successful in their respective careers.