Huntington Regional Chamber of Commerce to Host 2023 Member Trade Show on September 28 at Mountain Health Arena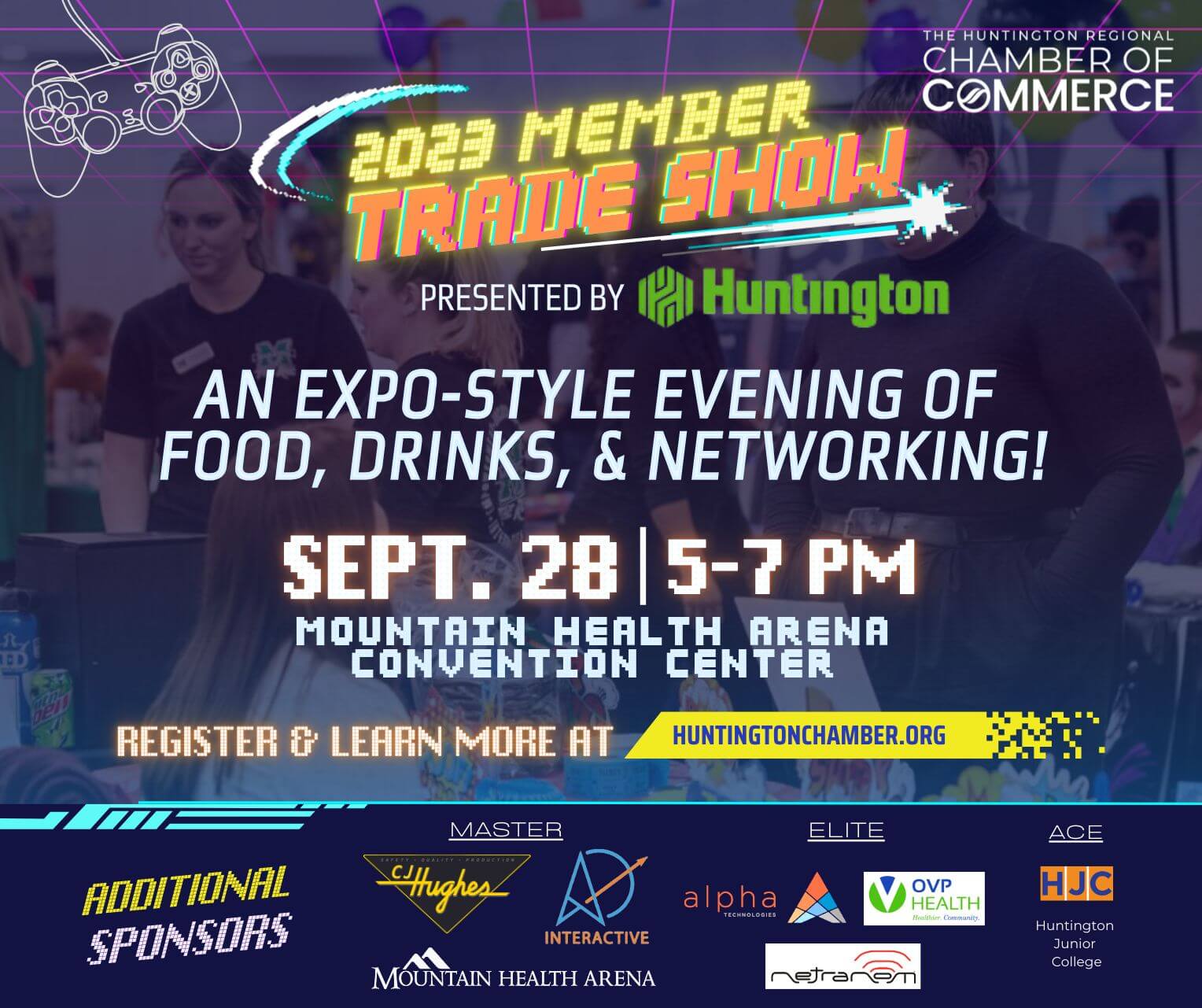 Huntington, W.Va. –  The Huntington Regional Chamber of Commerce will host its 2023 Member Trade Show, presented by Huntington National Bank, at the Mountain Health Arena Convention Center on Thursday, September 28 from 5 - 7 p.m. Featuring 50 businesses, the expo-style evening will offer food, open bar, networking, and prizes. General admission is $15 per person.
As a grander version of the Chamber's Business After Hours networking event, the Member Trade Show offers a unique opportunity for local businesses to promote their products and services, while connecting with the community and fellow Chamber members in a fun atmosphere. This year's arcade and video game theme will be "Level Up with the Chamber".
"We have consistently had more than 100 people at our Business After Hours events in 2023. At the end of our August event, I had several people tell me it was the best business networking event they had ever attended and that they already scheduled several follow-up appointments with new contacts," said Tricia Ball, President and CEO of the Huntington Regional Chamber of Commerce. "Our Member Trade Show builds off of the format at our typical networking events by allowing members to set up as vendors so they can showcase their products and services. The expo-style set up facilitates great conversations and connections because you're able to learn about people and businesses as you walk from table to table. It takes the intimidation of breaking the ice and walking up to a new group of people out of the equation."
Prizes include a general admission drawing for two season tickets to Marshall University Men's Basketball, a trivia game drawing for two season tickets to Marshall University Women's Basketball, and a 1st place costume contest for four Marshall University Football chair-back seat tickets to November 25 game versus Arkansas State. Individual drawings from exhibitors will also be included.
Additional sponsors include Master Level sponsors, AD Interactive, CJ Hughes Construction Co., Inc., and Mountain Health Arena; our Elite Level sponsors, Alpha Technologies, Inc., Netranom, and OVP Health; and Ace Level sponsor, Huntington Junior College.
For more information and to purchase tickets, visit tinyurl.com/2023MemberTradeShow